Filmmaking Photo & Quote of the Day
Filmmaking Photo and Quote of the Day!
Thanks for showing up. Every few days I will post a new filmmaking photo and quote – but if you have a favorite filmmaking (or movie) quote, please write it in the comment box below for everyone to share.
Oh… and just below the photo you will also see a Facebook LIKE button. Need I say more? 🙂
"The fact is, you don't know what directing is until the sun is setting and you've
got to get five shots and you're only going to get two." David Fincher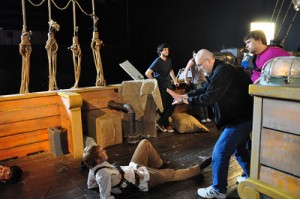 Peter on the set of Steampunk Neverland (2012)